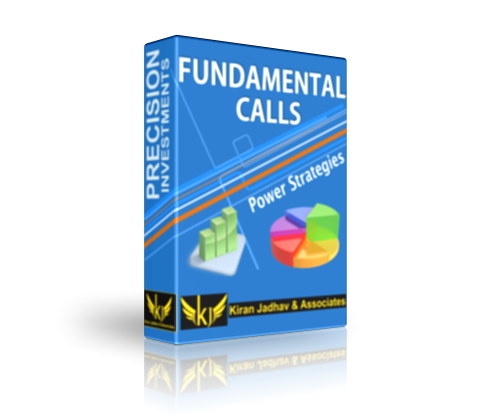 Fundamental Analysis as understood by common investors
Traditionally, Fundamental Analysis is known as understanding the company by its balance sheet which also means that an individual studies the ratios of the historical balance sheet and makes certain assumptions for the future based on its past performance. Is this what you were doing? Then rest assured that is not the correct method.
---
Fundamental Analysis in reality
In reality, it starts from the World economy, Indian economy, Sector analysis, Company meetings, Ratio Analysis and other ground level checks. It is a method of evaluating a security that entails attempting to measure its intrinsic value by examining related economic, financial and other qualitative and quantitative factors. It is an attempt to study everything that can affect the security's value, including macroeconomic factors and company-specific factors.
Product Features
The Fundamental Research Team is headed by Mr Shriram Nerlekar (Fundamental Analyst) who has been associated with the Indian Capital Markets for over a decade.. At Precision Investment Services, our Fundamental Research Product is designed to take your Investments to an optimum level wherein we suggest stocks with over 2x to 3x potential over the next 3 to 4 years creating sustainable wealth in stock markets. You only need few great stocks to beat the market and to change your life. We help our subscribers to invest in such stocks. Our Investment Approach is very simple - Few good quality stocks are more than adequate to generate big wealth. This is what we keep on telling our clients. There is just no need to jump from one stock to another, in search of the next HOT stock. This sounds really simple, but to practice it in real world is a tough job. Markets tend to tempt us with their daily ups & downs & investors are bound to make mistakes. These common mistakes are the only difference between successful investors & the unlucky ones. As they say, investment is 1% skill & 99% temperament. There are only two ways to beat the stock market in the long-term: one, investment based on superior information; two, be lucky..
Our Fundamental Research highlights
Our Fundamental Research has direct access to corporate management for its research.
We track over 150 corporates on a regular basis.
Our Fundamental Research also provides a software tool (PIS Fundamental Tool) to our subscribers which is a first in India.
Our Fundamental Research aims to identify potential multi-baggers to generate a huge rewards / massive wealth to our subscribers over long term (3 Years & above).
Finally our Fundamental Research is backed by a full-fledged research team enjoying over two decades of market and company knowledge.
Our Fundamental Team motto is to generate wealth but also safeguard the capital of our subcribers Active Feedback via email is also given to our registered subscribers.
In conclusion our Fundamental Research product enables our subscribers with SUPERIOR INFORMATION to invest in companies that are small today & have the potential to become big tomorrow. At Precision Investment Services, we focus on companies that have scalable business model & exponential growth path, companies that have the ability to gain pricing power and where there is high margin of safety, These factors helps them to become market leaders in their segment. We enter the stock with an initial target on it. If the company performance is better than our expectations, the targets are revised upwards depending on the financial performance & outlook at that point of time. If the company performs below the expectations or all the hopes of performance revival are gone, we exit the stock. There is no downward revision in the stock price. If we think, that the best is behind the company & market momentum too may not take the company very far from present levels, we simply exit the stock & move on. Vice versa, if we think that the best is yet to come. We may delay the exit decision and hold on to the position even if the desired target has been reached We follow a policy of releasing new stocks to our universe as and when any fresh buying opportunity arises.