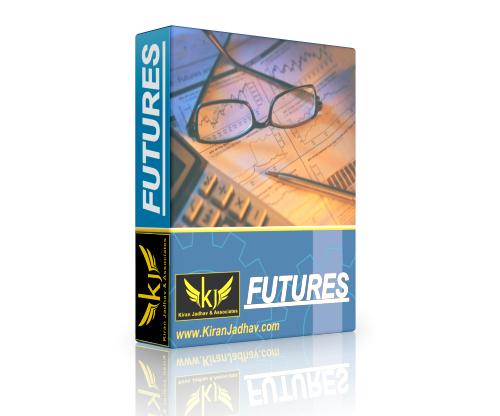 Human being is speculative in nature from the beginning. In every "AGE" it has been reflected in its behaviour and in current era also it is reflected in every aspect. The stock market is a place of manipulation and speculation and we need to take advantage of this situation. This is exactly what we intend to do in this segment.
What is futures – It's a contract to Buy or Sell the stock in future at a specific price. As this is a contract, we are not actually buying or selling the stock right now, therefore we don't have to pay total trade amount. We have to pay only the margin money which is decided by the exchanges and their intermediateries. Let's understand this with one example
I want to Buy 1000 shares of Wipro Ltd.
Share Price of Wipro Ltd is Rs. 500
My target is Rs. 600
---
Now I have two segments to trade this view – Cash Segment where I buy actual shares by paying full amount and another is Futures Market where I buy the same number of shares with only 15% amount
| Segment | No of Shares | Price | Total Investment | Profit if target is reached | % Returns |
| --- | --- | --- | --- | --- | --- |
| Cash Segment | 1000 | 500 | 500000 | 100000 | 20% |
| Futures | 1000 | 500 | 75000 | 100000 | 133% |
So, in futures segment, our ROI is more when compared to Cash Market. But one needs to understand that risk is also involved as this position is a leveraged position.
We also know that markets are driven by big players with financial power. These big players or HNIs invest huge amount of money in the markets, but while investing they take the advantage of derivative segment to multiply their profits. Let's understand the gimmick
If HNIs wants to buy few lakhs of shares in the cash market, then they would create a selling pressure first to take the prices down and then start accumulating at the lower levels. At the same time they will also BUY the stock futures as well as Options. Now this activity can be seen in "Derivative Data". After they buy in the derivatives segment, they start buying heavily in the cash markets and start taking the prices to higher levels which in turn becomes a huge profit in the derivative segment. These opportunities can be identified by understanding the Derivative Data points. So we have developed a strategy for futures by using this derivative data which is generating decent returns per quarter. One needs to be very alert as the BUY or SELL signal can be generated at any point of time during market hours.
We have been trading & testing this strategy and it has been observed that at least 3 months are required to deliver good returns.
How to Use
You will receive notification in our Whats app group.
Open website https://www.kiranjadhav.com
Click on Login Tab
Type your user name & password
List of Product will open
Click on Futures
Following table will open
| Sr. No. | Reco Date | Reco Time | Stock Symbol | Action to be taken | Rate | Quantity to be traded | Stop Loss | Remarks | Square off Date | Square Off Time | Square off Rate | Gain / Loss in Rs. |
| --- | --- | --- | --- | --- | --- | --- | --- | --- | --- | --- | --- | --- |
| 3 | 06-Dec-17 | 1.13pm | ABC | Buy | 765 | 500 | 755 | Fresh Position | | | | |
| 2 | 06-Dec-17 | 11.47am | PQR | Short | 320 | 350 | 314 | Hold | | | | |
| 1 | 05-Dec-17 | 10.37am | XYZ | Buy | 100 | 1000 | 93 | Exit | 05-Dec-17 | 2.17pm | 103.5 | 3500 |