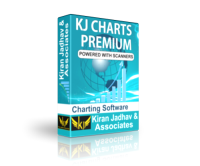 Technical Analysis is nothing but a study of price with charts. So naturally chart is the primary tool required for Technical Analysis. You may have wide range of charting software's available in the markets. These software's provide you the data for analysis. But the most important part is to know which stocks to analyze. There are approximately 5000 stocks which are listed on Indian stock exchanges. An investor cannot analyze all 5000 stocks everyday for understanding that where the opportunity is. Hence by using the experience of more than 30 years, we have developed scanners which will scan all the stocks on NSE and will give you a list of stocks where you may have an opportunity of sharp price rise in the near to midterm. Call on our office numbers, understand the process and get a feel of using world class scanners.
---
Advantages of KJ Charts
Software Installation not required.
Everyday data download process not required.
Data of – NSE, Futures, MCX, NCDEX and Currency.
Complete historical data.
Inbuilt more than 50 indicators & oscillators.
Built with world class stock scanners.
Easy stock search.
Simple process to draw lines and studies.
Simple process to delete lines and studies.
You can analyze charts on any machine using your login and password. Hence, you need not carry your laptop or machine everywhere.
Please note that this "KJ Charts Premium" is absolutely FREE for our esteemed MEMBERS.
For KJ Charts Premium JAVA must be enabled on your browser
FAQs