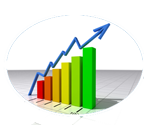 NIFTY SYSTEM is a mechanical trading system derived by study of Technical Analysis. Here we have developed a special formula based on supports & resistance theory coupled with the derivative data to arrive at BUY and SELL decisions. An investor who cannot devote time during the market hours and has minimum 50 Lakhs to invest can expect a multibagger and safe return.
---
Reasons why we have only Nifty to trade in this mechanical system
Nifty consist of the best 50 stocks which represent 24 different sectors of the economy
Nifty attracts the lowest margin when trading in futures
Historically Nifty has been volatile and will continue to do so. The idea of this product is to catch the volatility in the Nifty during the intraday period with a "all long" view.
Remember these points while using this system
For trading this mechanical system, you need to have minimum Rs 50 Lacks with you kept aside always.
The margin generally is approximately 10 to 15% but can vary as per market condition
You need to be prepared to pay 100% margin if the Exchange decides to increase the margin. This is not in OUR control.
The system needs to be traded with a system maturity figure. This system is not bound by time but bound by system target.
The returns cannot be assured and depend on a number of external factors.
There is no guarantee that this system will NOT incur a loss but due study is done to ensure that the idea with which this system is designed does not fail.
You need to understand that you can make a loss due to reasons beyond OUR, YOUR or BROKER'S control.
Kindly make sure to meet our representative to understand this mechanical system & its performance.